About Us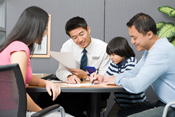 Global Insurance Agency, LLC is a full service brokerage firm offering personal and commercial insurance. We take pride in being an One Stop Shop for all of our client's insurance needs. We provide our clients with personalized service tailored to each client's needs. Whether is Personal or Commercial insurance, Consulting, Employee Benefits (Health and Life insurance), our agents have the experience, knowledge and resources to protect your most valuable assets.
We serve a wide spectrum of individuals, industries and disciplines, including, but not limited to real estate, construction, retail, wholesale, technology, education, energy, financial and professional services, healthcare, hospitality, religious institutions, manufacturing, marine, media, non-profit, private equity and venture capital and transportation.
Our diverse clientele includes politicians, entrepreneurs, entertainers; small, midsize and large businesses comprised of local, national, multinational and foreign corporations. Global Insurance Agency has strategic partnerships and valuable relationships with a network of leading insurance providers, which afford us the flexibility and resources needed to meet all of our clients' insurance needs in the United States and abroad.